If you are an international student and will be arriving or returning to the UK to start studying in September/October you may be wondering what new Government announcements around visas and 14-day, self-isolation mean to you. Also, which countries don't require you to quarantine.
The important thing to remember is that the Government is dedicated to help you. Speaking at the British Council's Going Global online event, Universities Minister, Michelle Donelan has said:
"International students are an integral part of our society, culture and economy and we are proud that so many international students come here every year to study. That is why I want to stress to overseas students at this unprecedented time that they will always be welcome in this country."
However, there are a few things you need to be aware of and we've summarised some of the key Government instructions and provided links to the main documents. We recommend you check the official documents regularly or sign up at gov.uk to receive email updates.
Visas
You might be thinking about applying for your Tier 4 (General) student visa and maybe wondering what the impact Covid-19 will have on your right to study in the UK.
The good news is that the Government has updated it's "Guidance for Tier 4 sponsors, migrants and short-term students" on the 1st June.
The document is 19 pages long so please read it carefully but here a couple of key points:
*Where students are required to take a SELT overseas but a test centre is unavailable, sponsors which are higher education providers with a track record of compliance will be able to self-assess students as having a B1 level of English, where progression on to the main course is dependent upon passing the pre-sessional course.
*Students whose 30 day visa to travel to the UK has expired, or is about to expire, can request a replacement visa with revised validity dates free of charge until the end of this year.
The UK visa applicants information was updated on 15 June to advise current students your visa will be extended to 31 July 2020 if you cannot leave the UK because of travel restrictions or self-isolation related to coronavirus (COVID-19).
If you've applied for a Tier 4 visa and are waiting for a decision on your application
The UK visa applicants information outlines you can start your course or studies before your visa application has been decided if:
* your sponsor is a Tier 4 sponsor
* you have been given a confirmation of acceptance for studies (CAS)
* you submitted your application before your current visa expired and you show your sponsor evidence of this
* the course you start is the same as the one listed on your CAS
* you have a valid Academic Technology Approval Scheme (ATAS) certificate if required
If your application is eventually rejected as invalid or refused you must stop your course or studies.
International students and email the Government's Coronavirus (COVID-19) Immigration Help Centre at: CIH@homeoffice.gov.uk if they have any further questions about their visas.
Travel Advice
The Government has published information about how to travel safely in airports and on aircraft during the coronavirus (COVID-19) outbreak: Coronavirus (COVID-19): safer air travel guidance for passengers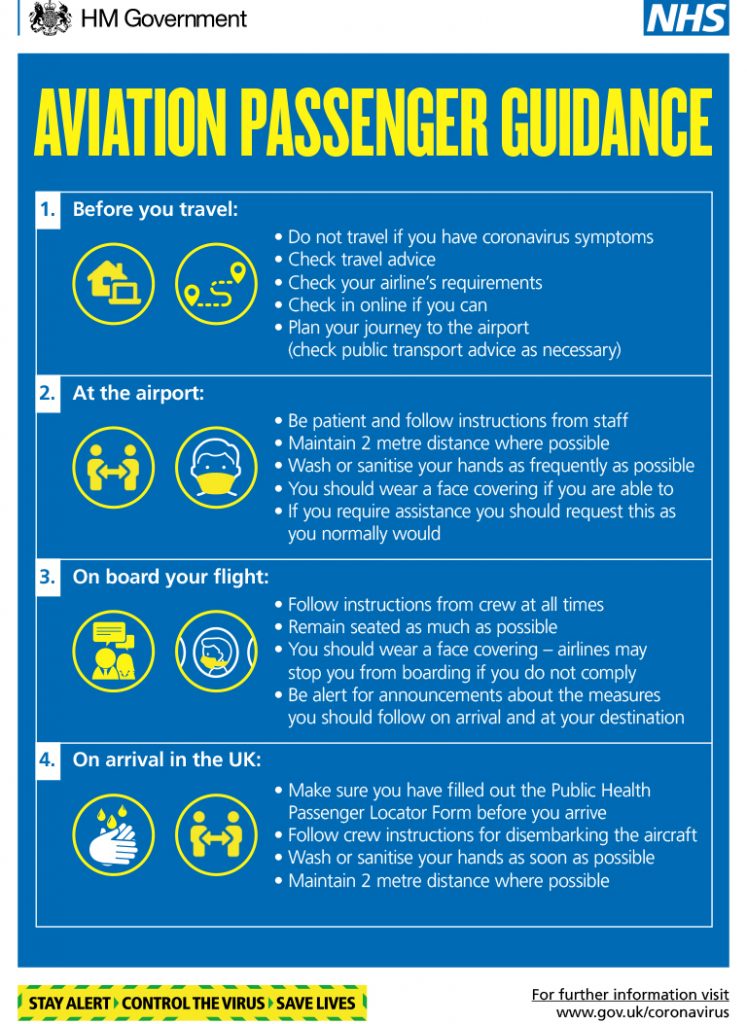 Click to enlarge or download PDF
14 day isolation
On 3rd June, the Home Secretary delivered a statement to the House of Commons about those arriving in the country. It outlined the need for all arrivals to self-isolate for 14 days because this is the incubation period of coronavirus.
Arrivals to the UK are now required to fill in a 'Contact Locator Form', including details as to where they will isolate and how they can be contacted.
Your airline or other travel company will inform you on the information you need to provide in order to travel to the UK. The form must be completed in advance of travel to provide details of the journey.
Passengers will require a receipt, either printed or on their phone electronically, to prove they have completed the form.
From the 10th July, the Government has announced people arriving from certain countries will be able to enter England without needing to self-isolate – unless they have been in or travelled through non-exempt countries in the previous 14 days.
The full list of exempt countries is available on the gov.uk website but please note if you are a student travelling from key countries not on the list, such as China, India, Malaysia and Nigeria, you will still have to self-isolate for 14 days.
All passengers, except those on a small list of exemptions, will still be required to provide contact information on arrival in the UK.
What to do before you arrive at CODE
Government advice is being updated regularly but the latest instruction on how to self isolate when you travel to the UK applies from Monday 8th June:

We will ask you to send us your arrival date in advance. You should also send us your Contact Locator Form up to 48 hours in advance of arriving on site:
* If you are a current tenant, it is vital you contact us before you return to your room.
* If you are a new tenant for 2020/21, we will be able to tell you more about how we will allow you to 'check in' in a safe manner. We will give you more details on this closer to your contract start date.
The Government has instructed you should only use public transport to travel to CODE if you have no other option. If you do use public transport, wear something that covers your nose and mouth and stay 2 metres apart from other people. Pack a face covering or scarf to cover your nose and mouth before you travel.
Once you arrive in your room you should self-isolate in one place for the full 14 days and stay 2 metres away from others. You should not have visitors, including friends. You cannot go out to university or visit public areas. It's also important that you don't use shared areas within CODE, such as the study spaces or laundry. You should not go shopping.
Our CODE staff will be here to help you in anyway we can, and you can contact us if you require help buying groceries, other shopping or picking up medication.
The new rules may seem a little scary but they are there to protect everyone and stop the spread of Coronavirus. The important thing to remember is this might be quiet strange but our CODE Team will be here to help you every step of the way.