Asha is a Masters' student and CODE resident. Here she reflects on what it has been like learning online, coming to terms with the 'new' university experience, and realising it's not as bad as she first thought.
The Coronavirus outbreak has had a significant impact across the UK, particularly for university students.
In these unprecedented times it has left many students feeling uncertain and slightly de-motivated. It's understandable as our lives were thrown upside down in a matter of days – unable to do things we thought as normal such as going to class, studying in the library and enjoying a meal on campus.
Although shaky at the start, I do think the university has done a superb job of transitioning face-to-face lectures online. I would be lying if I said it was an easy and seamless transition as I personally found it difficult at first. However, now I have adapted to joining my blackboard collaborate sessions and actually prefer it to the real thing.
I do miss the student/lecturer contact as it is easier to have a conversation or discussion about any particular issues but in these uncertain times, I appreciate the commitment from lecturers. It's also great to hear the universities are going to try and reinstate this part of learning for next year.
Studying at home in my room was never an option before lockdown, I prefer the library and on campus cafés to stay focus. But during the past weeks I have found some creative ways to complete my coursework and soak in the lovely weather, sitting outside on sunny days.
Before lockdown, I maintained a healthy balance between my social life and studies but currently that's a thing of the past. I'm looking forward to the easing of more lockdown measures in the coming weeks, as the most excitement I've had has been a trip to the supermarket.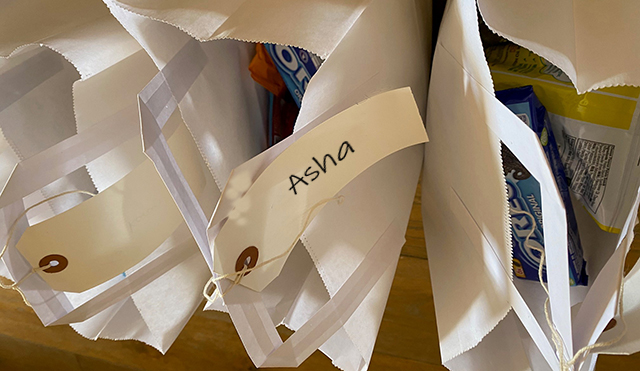 Look forward to other things
CODE staff have helped with morale by leaving personalised goodie bags outside my door which is a great way to start my week.
As social distancing can get quite lonely it is important to maintain a level of social contact. I have done this by organizing weekly zoom calls with university friends and family members as well as going on weekly social distanced walks with CODE neighbours. It's a hard time for everyone so it's amazing when you can reach out to a familiar face.
In my opinion, this is the time to enhance your skills and try new hobbies. Personally, I have taken up painting. It's very therapeutic and time consuming completely distracting me from the horrors of lockdown and university stress!
Some other fun hobbies I've tried include cooking, learning another language and even baking… I think I'm on my 3rd banana bread this lockdown with many more to be baked.
Take time to reflect
At first, I was upset and in shock that I would be robbed of my final months of 'normal' university. But now I've come to terms with this new reality. As a master's student, I originally found it challenging with the impending deadlines, exams and dissertation prep. Now, I have been able to focus my time by setting weekly goals and tasks for myself.
I have found myself to be more organised and productive and able to spend time enjoying the weather in the park. I think what I've learnt is that when changes are announced, it's good to take time to reflect on them and really assess if they are as bad as you first think.
Lastly, and most importantly, take a deep breath and relax. I understand that this year hasn't gone to plan – and next year might be a bit different for you too – but try to find the positives in each day, stay in touch with loved ones and breathe. This will soon be over and better days are coming!