England's new Lockdown – 5 Nov to 2 Dec

COVID-19 case numbers are rising rapidly so the Govermnment is introducing a new 'lockdown' – with new laws telling you must stay home as much as possible.
The lockdown will run from Thursday 5th November (12.01am) – Wednesday 2nd December.
The good news is that at CODE, we are fully prepared for the changes that will come into place. In this update, we will explain what the lockdown means to you.
Covid terminology:
Support bubble – where a household with one adult (such as a CODE tenant) joins with another household (potentially another CODE tenant or student).
Households in that support bubble can still visit each other, stay overnight, and visit outdoor public places together.
Outdoor Public Places – Parks, beaches, countryside, public gardens, playgrounds.
Hands, Face, Space – Wash your hands with soap and water or use hand sanitiser regularly throughout the day. Cover your face with a face covering. Make space and stay more than 2 meters apart.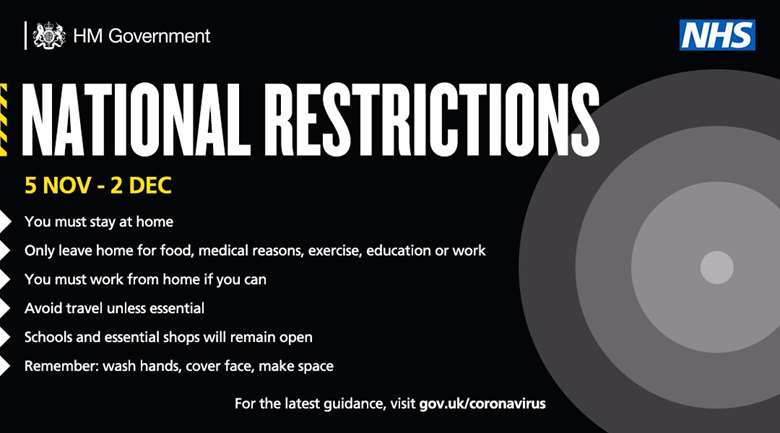 What do the new lockdown measures mean to me?
1. You are asked to stay at home – but you can still do the following:
* Go to Uni
* Go to work (if you cannot work from home)
* Exercise/visit an outdoor public place with the people you live with or your support bubble
– or, if on your own, with one person from another family.
* Go to the doctors or hospital
* Go basic food shopping
* Visit your support bubble or provide care
2. Don't gather with people you do not live with (except for specific purposes):
You cannot physically meet indoors with anyone except your support bubble
3. Certain businesses and venues have to close.
At CODE this means:
* The gym will need to be closed.
* The cinema and dance studio will continue to be closed
* Our study rooms will remain open – only one person per room (or 2 if you are in a support bubble) – and we are looking to turn our communal space temporarily into a study area.
You can book a study space at:
Coventry: codestudents.co/book-study
Leicester: codestudents.co/study-book
* The parcel service will remain open with extended hours (see below) – at Leicester parcels have moved to the old cinema room
* The cafe at Leicester will re-open 11.30am to 9pm, Mon-Sat but will only be offering take-aways and deliveries only. Full details at codestudents.co/leics-cafe
You may want to know
1. Can I go home?
The Government has made it clear that you must not move back and forward between your permanent home and student accommodation, you should only return home at the end of term for Christmas. Read the Government letter to students.
2. I've already gone home, what do I need to do?
Please email us at leicester@codestudents.co.uk or coventry@codestudents.co.uk letting us know if you have:
– Emptied your fridge / freezer
– Turned your electric off
– Closed all windows
– Locked your door
3. Can I receive parcels?
Our parcel service will not only continue, but we are increasing our opening hours.
Parcels will now be open:
Monday – Saturday – 9am – 5.30pm
Sunday – 1pm-5pm
Please always wear a face covering when collecting parcels.
4. Can I use the laundry?
The laundry room is open as usual.
5. Are the offices staying open?
Our offices are still open, but we need to reduce contact as much as possible. Please always wear your face covering and stick to social distancing set out.
6. Can I have a friend(s) over to stay / see me?
Only if they are in your support bubble.
We will kindly ask groups of more than 2 to disperse.
However, the police will be able to take action against those who break these rules, including asking people to disperse and issuing fixed penalty notices:
£200 for the first offence, lowered to £100 if paid within 14 days
£400 for the second offence, then doubling for each further offence up to a maximum of £6,400
If you hold, or are involved in holding, an illegal gathering of over 30 people, the police can issue fines of £10,000. Students around the country, including Nottingham have been issued with fines.
7. How long can I exercise outside for?
There is no specific time provided, but you must remember "Hands-Face-Space".
8. Are you still doing your giveaways and sampling events?
We are going to have to adjust to accommodate the new lockdown rules – but we will still have a full range of Covid-safe online activities and gifting. Keep an eye on our web pages for details
Coventry – codestudents.co/cov-events
Leicester – codestudents.co/leics-events
9. Is the Code Café open?
Yes, it is operating 11.30am to 9pm, Mon-Sat but for take-away / deliveries only. Full details at codestudents.co/leics-cafe
SYMPTOMS OF COVID-19
If you have symptoms of COVID-19, stay in your flat and book a free test immediately. Closely follow the advice you are given when you book your test.
Information on how to book a test and advice on what to do next is available.
You should also let us know by completing the Self Isolation form. We can then offer advice on how to keep yourself and others safe and well.
BEING TOLD TO SELF-ISOLATE
If you are notified by NHS Test and Trace that you are a contact of a person with COVID-19, stay at home and follow the advice you are given.
More information is available on what to do if you are a contact of someone with COVID-19.
You should also let us know by completing the Self Isolation form. We can then offer advice on how to keep yourself and others safe and well.
If you are returning from certain countries affected by COVID-19, stay at home and follow the advice you are given.
Find out which countries are affected.
If you are staying at home for any COVID-19 related reason, you should not go outside for any reason. You should not have visitors to your studio except for people who provide you with essential care.
You could be fined if you do not stay at home and self-isolate following a positive test result for COVID-19, or if you are contacted by NHS Test and Trace and instructed to self-isolate because you are a contact of someone who has had a positive test result.
If you test positive for COVID-19, it will also be an offence to knowingly provide false information about your close contacts to NHS Test and Trace.
Failure to comply with these requirements may result in a fine of up to £10,000.