Advice surrounding the Coronavirus (COVID-19) outbreak is changing daily, with regular updates from the Government and Public Health England.
On this page, we will keep you up-to-date with what we're doing to keep our residents as safe as possible. The content reflects the best advice we have currently. We will update it as necessary, particularly if there are changes to public health guidance.
FOLLOWING GOVERNMENT ANNOUNCEMENTS WHICH EASE SOME LOCKDOWN RULES,  WE HAVE MADE A NUMBER OF KEY CHANGES TO OUR SERVICES. PLEASE READ THIS PAGE CAREFULLY.
Please also be advised that under the "local action" lockdown measures for Leicester (announced by Matt Hancock at just before 10pm on Monday 28th June):
All non-essential shops will close and this will be enforced by law.
Schools will close from Thursday and will not reopen until next term.
People should avoid all but essential travel to, from, and within Leicester and should "stay at home as much as you can".
Restaurants, pubs, cafes, hairdressers and cinemas will stay closed and not reopen.
Those who are shielding will not see measures relaxed on 6 July.
The local measures will be reviewed for the first time in two weeks' time.
What it means for you as a CODE resident:

* Everyone is being asked to "Stay Alert". If you are in or around our buildings please continue to keep 2 metres apart (or 1 metre with risk mitigations, where 2 metres is not viable) and only meet up to six people outside of our buildings who are not from your household.
* Business guidance means some industries are being encouraged to return to work. Some of our staff will be moving back into the offices but we are still trying to limit contact. We therefore encourage you to use other methods to contact us, whether that is by calling us on 0116 233 5678 (Leicester), 024 76 105 106 (Coventry).
If you do need to come to the office, please call ahead to ensure that it is safe to do so and follow 2 metre social distancing rules. In Leicester, the office doors will be locked until 18th July due to lockdown rules.
* Our online chat service at www.codestudents.co.uk is still open 9am-8pm, Monday to Friday and 10am and 6pm Saturday and Sunday.
* Opening of hospitality and other public places has been given the green light for the 4th July but not in Leicester due to the local lockdown. So sadly, our gym, cafe and communal spaces won't be opening in the near future. We are reviewing plans for Coventry. Your fob will not grant you access to these areas (apart from for the laundry in Coventry – see below).
* We are looking at the announcement that will allow gyms to re-open on the 25th July. We will be conducting health and safety and risk assessment checks, and will make further announcements shortly.
* In general, leaving your home – the place you live – to stay at another home is not allowed, unless you form a support bubble. But the government has said in their Coronavirus outbreak FAQs that students are now allowed to move permanently back to their family home or collect their belongings.
* Hire equipment is not currently available.
*Our parcels service is open between Monday and Friday, 1pm to 3pm – but not in the same way you used to. We will now be putting in place a "contactless" parcel service, which will work using a one way system and strict social distancing measures. There will be other guidance to tell you what to do. Please follow all instructions carefully.
It is important to us that CODE staff and students remain safe, so we will be monitoring this in light of the local lockdown in Leicester.
* Laundry:
The laundry at Coventry will be open slightly longer, now open between 9am-5.30pm, Monday-Saturday for all students. If you are currently a student working in the NHS and need access to the laundry outside of these times, please call 07719 314601. We will arrange access for you on production of a valid NHS Staff ID card.
If two people are in the laundry, please use machines that are 2 metres apart. Once you have loaded/unloaded your machine please leave the laundry area immediately to allow someone else to use it.
A wash cycle takes 40 minutes and a dry cycle 50 minutes. Please monitor these times to allow you to complete your laundry quickly.
Do not use the communal spaces next door to the laundry for any reason, even while you are waiting for your washing. We will be checking fob activity and cctv and anyone found in the area will lose their rights to use the laundry.
* The laundry in Leicester remains open but we kindly ask it is used by a maximum of two people at a time to enable social distancing.
* We have free hire bikes that can be borrowed for up to an hour. To borrow one, give security a call and let them know you want to use it – please try and give them a bit of notice in case they are busy with other things. You will need to leave your ID with security.
* Updates for those at CODE: We are sending other email updates to students who have told us they are still living at CODE. If you are staying in your flat but have not been receiving these, please let us know by emailing marketing@codestudents.co.uk

We are taking a number of steps to protect our staff and residents. This includes:
* Carrying out a COVID-19 risk assessment.
* Making sure high traffic areas, such as our gates and doorways, are cleaned regularly to decrease transmission risks.
* Ensuring we take all reasonable steps in maintaining a 2m distance throughout the site.
* Displaying advice signs in high traffic areas, including encouraging frequent hand-washing and advising residents on how to use lifts safely.
* Sending regular emails to students we know are on site, updating them on key information and Government advice.

* Upcoming work on installing smart meters at Leicester that was due to start on 25th March has been postponed indefinitely.
* We may need to access your room to carry out essential fire safety tasks, such as testing our sprinkler system, if we need to do this we will give you advanced notice.
*We will only be responding to emergency maintenance requests, this will only cover having no electricity or water supply, a water leak or a problem with your heat or smoke detector.
* We will continue to respond to security calls but please be considerate to neighbours in relation to noise or other behaviour that could cause stress at this difficult time.
For emergencies involving a threat to life, call 999
* We are conducting some work on site, making essential repairs to some of our blocks. Any staff involved in this work should not come into contact with students, but will employ safe social distancing if they do.

Returning keys in person
As you are aware, the Government is beginning to ease its lockdown measures. It is now advising that students who left their student accommodation can travel back to collect their belongings as long as they follow the precautions laid out in staying safe outside your home.
If you are planning on returning, please complete our online checkout form.

Coventry

If you are returning keys Monday-Saturday, 9am to 5.30pm, we will ask you to visit our Office in Coventry. You may be asked to knock and wait to help us adhere to social distancing measures.
Outside of these hours please call our Security Team on 07719 314601.
If no one is available, you can also leave your keys in our postbox in Block B foyer, between the main doors and the lift.
Leicester
Due to local lockdown measures, if you feel leaving the accommodation is "essential" you can still hand in your key in our red "Landlord's postbox" which can be found in Block A outside the laundry.
Please place your keys in an envelope with your name and room number if using this postbox (we will need your keys to allow us to process your refund).
Please remember, while on site wash your hands frequently and wherever possible stay at least 2 metres apart from people who are not members of your household. If you wish to wear PPE (personal protection equipment) please bring items such as face masks and gloves with you.
Returning keys by post or lost keys
If you need to post your keys back to us – or you have lost your keys – please contact leicester@codestudents.co.uk or coventry@codestudents.co.uk and we will advise you on next steps
Refund processing
If you take advantage of our fast-track checkout offer and hand in your keys in June, we will aim to return your £300 + any applicable electricity refunds (pending any charges) within 14 working days. We'll also clean your room for free!
Once you have handed in your keys, we will try to complete the checkout process as quickly as possible and also return your deposit as soon as we can (as long as there is no damage or you do not have no rent arrears). Please be patience while we do this. It is taking slightly longer than normal due to changes in our processes due to social distancing.
You can also help speed up this process by making sure your bank details are uploaded and up-to-date on your portal. We need this information to allow refunds to be made.
Because we are unable to hire out any cleaning equipment, we won't charge you if you have been able to hoover or mop your floors. Although we would kindly ask you take out all rubbish from your room before leaving, including cleaning out your fridge.
Check out dates
Don't want to check out just yet? No problem, your room is yours until the end of your contract. If you're staying in the same room next year, there's also no need to return your keys or move your belongings.
Ship your belongings
If you have belongings in your room and want to have them shipped to you, we've partnered with an international shipping and storage company called Baggage Hub.
Even if you've already left, Baggage Hub can pack up your belongings for you and store them until you return and / or forward them on anywhere in the world when you're ready for them.
You will have to pay the cost of shipping your belongings – but they do offer a 10% student discount on all services.
Go to the booking site or, for a more tailored service, contact student@baggagehub.co.uk with your requirements.
 
Emails were sent to all tenants due to pay rent in April, detailing our rent position. The email was sent to the email address the booking was registered with. If you think you should have received an email and haven't, please contact our online customer care team at www.codestudents.co.uk
We are mindful some students are facing financial challenges which is why we put in place a new hardship process for our students if they felt they may struggle to pay their rent. The deadline for hardship applications was 10pm on the 3rd May and the fund has now closed. We were able to offer discounts and payment plans for many people who applied through the hardship fund.
We are also continuing to refund other costs where possible, such as returning the price of any unused electricity for those on inclusive contracts and removing cancellation fees for 19/20 tenants (this applies to anyone who completed a cancellation form from the 24th March onwards and will be applied retrospectively, replacing any previous advice. Please note that other tenancy costs are still payable).
Our team are contacting all tenants and their guarantors with outstanding rent arrears by emails and letter to discuss next steps.
Other financial help
Consumer expert, Martin Lewis, has included this question in his latest email roundup:
What if my (or my parents') income has dropped – does this affect how much student loan I can get?
When you apply to university, you get a standard loan that covers your tuition costs, but the loan you get to cover your general living costs – called the maintenance loan – varies, depending on household income and which country's finance system you're applying to…
– In England: The more the income, the less the loan received. This suggests parents should fill the gap, see our parental contribution calculator.
– In Wales: Everyone gets the same amount, but the higher your income, the more of it is a repayable loan rather than non-repayable grant.
– In Scotland & Northern Ireland: Its a mix of grant, loan and implied parental contribution. Higher income means less grant, more of the other two.
Typically, when you apply (whichever country you're in) you'll be asked to provide information about your income in the previous tax year. Yet, if your income this tax year will be at least 15% less – perhaps due to coronavirus – you can give your income details for the current tax year instead.
This is known as a "Current Year Income assessment" and could result in a bigger maintenance payout. It's not been newly introduced due to coronavirus, but due to the economic effects of the virus, it's likely to be relevant to a larger group of people.
You'll need to make the finance application as normal (more info on how to do this), then you'll need to fill in the current year income assessment form separately.
Government advice on Coronavirus
You should continue to stay alert and limit your contact with others. Staying at home is the easiest way to do this.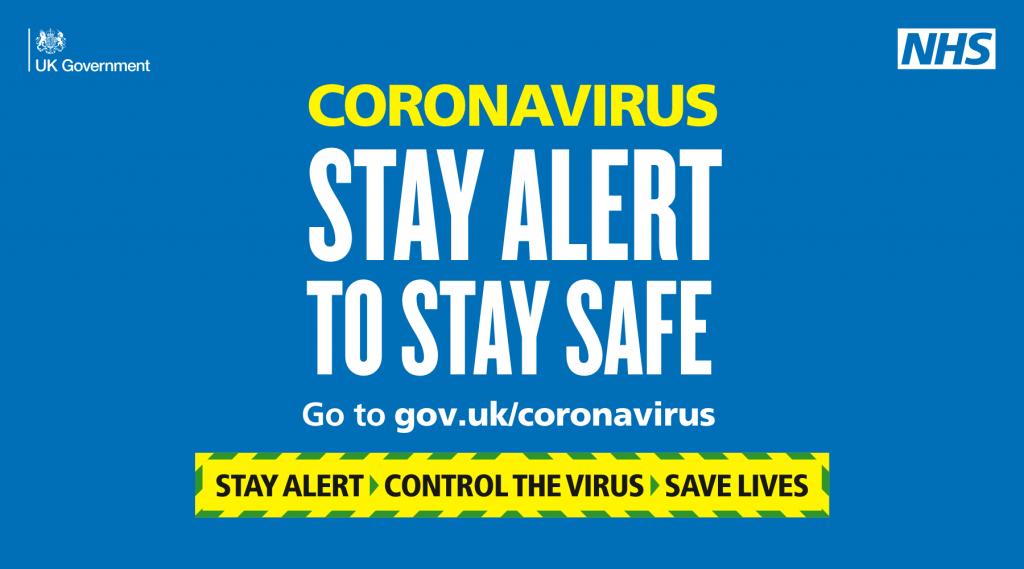 The Government has started to relax some of the restrictions. Here is a summary of what you can do now. Please refer to the gov.uk website for full details. Also, a local lockdown is in place for Leicester, which means some of the following options are not available.
Outdoors:
In England, you can leave your home to exercise and spend time outdoors for recreation:
* with your household or support bubble
* in groups of up to six people from outside your household or support bubble
* visit some animal attractions
Full details on accessing green spaces safely can be found on the Government website
Indoors:
* Form a 'support bubble' with one other household if you live alone or are a single parent with dependent children – in other words, you are in a household where there is only one adult. All those in a support bubble will be able to act as if they live in the same household – meaning they can spend time together inside each other's homes and do not need to stay 2 metres apart. Support bubbles should be exclusive – meaning you should not switch the household you are in a bubble with or connect with multiple households
* Attend your place of worship for the purposes of individual prayer
* You will be able to visit any type of shop and some additional outdoor attractions – drive-in cinemas, and animal attractions like zoos, farms and safari parks
Travel
* You will have to wear a face covering on public transport
* There is further advice on travelling to the UK if you are an international student.
As before, you cannot:
* Visit friends and family inside their homes (unless you are in a support bubble from 13 June) or for other limited circumstances set out in law
* Stay away from your home or your support bubble household overnight – including holidays – except for in a limited set of circumstances, such as for work purposes
* exercise in an indoor sports court, gym or leisure centre, or go swimming in a public pool
* Use an outdoor gym or playground (until 4th July)
* Gather outdoors in a group of more than six (unless exclusively with members of your own household or support bubble or for one of the limited set of circumstances set out in the law)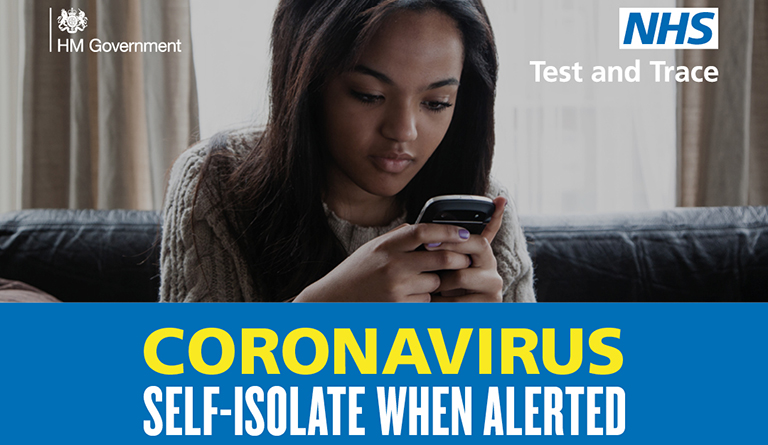 If you think you have symptoms of coronavirus
If you are showing coronavirus symptoms, or if you are self-isolating, you should stay at home – this is critical to staying safe and saving lives.
The current NHS advice is to self-isolate for 7 days if you have either:
* a high temperature/fever
* a new, continuous cough
* Loss of or a change in your normal sense of smell/taste
Take a test
You can also ask for a test to check if you have Coronavirus.
You need to get the test done in the first 5 days of having symptoms. Do not wait. Ask for the test as soon as you have symptoms. You must stay at home (self-isolate) until you get your result.
In England, you'll get an email, text or call from the NHS Test and Trace service if you test positive. You'll be asked where you've been recently and who you've been in close contact with.This will help the NHS contact anyone who may have caught the virus from you. Find out about being contacted by NHS Test and Trace after testing positive for coronavirus.
Ask CODE for support
If  you need to self-isolate, please email health@codestudents.co.uk as soon as possible and we will advise you on how we can support you, including advice on food deliveries and rubbish collection. Please remember no rubbish should ever be left in corridors or stairwells.
We also advise you read the NHS advice about staying at home. Do not go to a GP surgery, pharmacy or hospital. You do not need to contact 111 to tell them you're staying in your room.
If you hear of other residents self-isolating
The Government advice is to self-isolate for a period of 7 days if you show the above symptoms. These symptoms can also be present in cases of the flu or a bad cold – so if someone is self-isolating it does not necessarily mean they have Coronavirus.
Our studio flats, with their own bathroom and kitchen, allow someone to protect themselves and others during the 7 days required for self-isolation. The virus is not airborne, so if someone in self-isolation opens a window, that is safe.
Self-isolation is a precautionary measure so please be understanding and sympathetic if you hear of other tenants who are doing this, as it is likely they are also feeling unwell.
There is no need to panic if someone near you is self-isolating but if you are worried about the situation please speak to the Office.
Mind – the mental health charity – have also issued some advice in relation to the Coronavirus and your well-being.
If you are feeling worried or distressed, Student Minds – Coronavirus Resources offer guidance and support