At CODE, we pride ourselves on our free weekly social events. And even in the times of lockdown and social distancing, we have kept them going – just online.
Our latest was a digital scavenger hunt. We hid 10 "CODE footsteps" around our website and challenged our residents – and 2020/21 tenants – to find them all.
The hunt itself was pretty tricky and only a handful of people in each group got all the answers correct! Well done if that was you! Our random prize winner selected Martin and Eger as the winners… and they are loving their prizes of £100 Amazon vouchers each.
"This is great news - especially during these weird times! I'm so happy to hear this. :) Thanks a lot for this!"
Eger, £100 Amazon voucher prize winner
The answers
So if you're wondering where they all were, here's the answers step by step!

One
Our laundry rooms offer affordable wash and drys – and are app controlled, so are a convenient new way to pay for laundry.
Did you spot footstep 1 hanging about in the laundry?


Two
CODE's social events are one of the highlights of living at CODE. Footstep 2 was hidden among the pottery class, which we held as part of University Mental Health Day. Our events have moved online now but rest assured they will continue for all our residents.

Three
Footstep 3 was taking a little nap on the pillows in our Skyline Deluxe Studio at Coventry. And why not, we are one of only a handful of providers who provide a full sized double bed in our rooms!


Four
Some of our Deluxe Studios in Leicester have great city views – but were you distracted by the landscape or did your eyes spot Footstep four?


Five
Sadly our team might have to social distance in the near future but did you spot Footstep 5 in our office photo from a few months ago?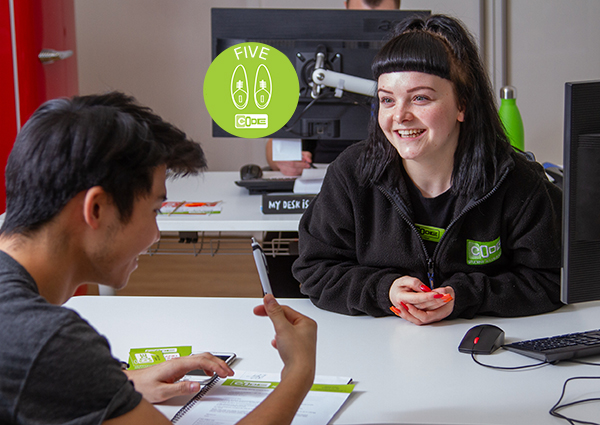 Six
Our Courtyard in Leicester is a fantastic outdoor space. Right next to the river it will allow our students to meet friends outdoors under new Government guidelines. Footstep 6 was taking a socially-distanced stroll.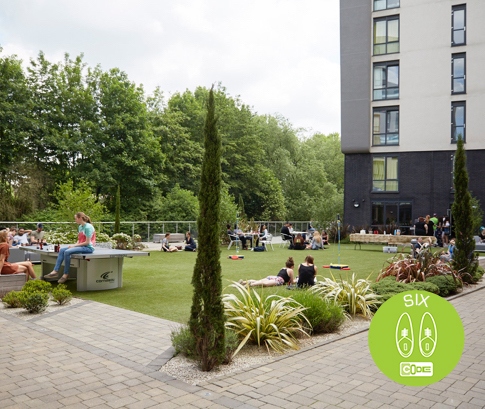 Seven
Our students love living at CODE. Did you spot Footstep 7 in among the testimonials? Did you listen to a few as well?


Eight
Our communal rooms are a great way to meet friends – and we're already planning how they can re-open safely when the Government allows. Until then, Footstep 8 was having a ball by the pool table 😉

Nine
Our Welcome Party at the start of term has been a traditional ice-breaker and was where you found Footstep 9. We might not be able to get together in the same way in October but we will be planning an online experience that will be just as good!


Ten
Table tennis is off the menu at the minute, with the only visitor being Footstep 10. But we've been keeping our residents fit in the meantime with free online fitness classes delivered by personal trainers.