Advice surrounding the Coronavirus (COVID-19) outbreak is changing daily, with regular updates from the Government and Public Health England.
On this page, we will keep you up-to-date with what we're doing to keep our residents as safe as possible. The content reflects the best advice we have currently. We will update it as necessary, particularly if there are changes to public health guidance.
FOLLOWING THE GOVERNMENT ANNOUNCEMENT AT 8.30PM ON MONDAY 23rd MARCH PLACING THE COUNTRY IN "LOCKDOWN", WE HAVE MADE A NUMBER OF KEY CHANGES TO OUR SERVICES. PLEASE READ THIS PAGE CAREFULLY.
We have taken these decisions based on Government advice. We know that this will have an impact on those of you still living at CODE but the Prime Minister has been clear we are in a "moment of national emergency", where life is not continuing as "normal". We ask that you bear with us and understand why we have made these difficult decisions. We appreciate your patience during this national crisis.
What is CODE doing?
Site changes
 * We have closed our offices but will still have staff on site for emergencies only. The staff you see may be different to the CODE staff you already know but they will be wearing CODE uniforms, so you know who they are. These staff have been with CODE for a number of years and are trusted members of our team.
* If you need to contact us you should talk to us using our online chat service that can be found at www.codestudents.co.uk – there will be someone online between 9am-8pm, 7 days a week.
As such, activities that would normally happen from our office, such as equipment hire, are no longer in operation.
* Our Parcel service is now closed. We have asked delivery services to contact individual students about their parcels. Residents should liaise with the service to collect parcels from the delivery person, most likely by going outside the building to collect the parcel. Please use safe social distancing and stay 2 metres apart. We cannot be responsible if a delivery service chooses not to contact individual students.
* At Coventry, letters delivered by Royal Mail will be collected and posted under individual doors by CODE Staff.
* The gym and all communal areas are closed and your fob will not grant you access to these areas (apart from for the laundry in Coventry – see below).
* The laundry at Coventry will be open 8am-midday, Monday-Friday for all students and 8am-midday, Saturday and Sunday for students working in the NHS only, but we kindly ask it is used by a maximum of two people at a time to enable social distancing.
If two people are in the laundry, please use machines that are 2 metres apart. Once you have loaded/unloaded your machine please leave the laundry area immediately to allow someone else to use it.
A wash cycle takes 40 minutes and a dry cycle 50 minutes. Please monitor these times to allow you to complete your laundry quickly.
If you are currently a student working in the NHS and need access to the laundry outside of these times, please call 07719 314601. We will arrange access for you on production of a valid NHS Staff ID card.
Do not use the communal spaces next door to the laundry for any reason, even while you are waiting for your washing. We will be checking fob activity and cctv and anyone found in the area will lose their rights to use the laundry.
* The laundry in Leicester remains open but we kindly ask it is used by a maximum of two people at a time to enable social distancing.
Maintenance and routine works
* Upcoming work on installing smart meters at Leicester that was due to start on 25th March has been postponed indefinitely. We will be in touch once the lockdown has ended with more details.
*We will only be responding to emergency maintenance requests, this will only cover having no electricity or water supply, a water leak or a problem with your heat or smoke detector.
* We will continue to respond to security calls but please be considerate to neighbours in relation to noise or other behaviour that could cause stress at this difficult time.
For emergencies involving a threat to life, call 999
Rent and payments
There have been a number of comments and requests in the past week about rent payable, and we have been working hard to make sure our responses are informative in what is a uncertain time. We care a great deal about our tenants, and continue to send best wishes and the hope everyone stays safe and well.
In regards to rent many providers, like CODE, are having to carefully consider a way forward that does not place their business in a situation where Code cannot repay the interest and capital repayments to the bank which would put them in breach of the banking covenants.
We know difficulties and anxieties are affecting individuals as well as businesses but we have also been mindful of the need to continue to operate the building for the hundreds of students that continue to live at Code.
The Department of Education is currently feeding the concerns of the student accommodation sector into the HM Treasury and we are awaiting further guidance on the situation, including how we can access and implement any support that may be offered by Government. We are aware some universities and private providers with university partnerships have decided to release students in their residences from rent obligations but their position is very different to that of many private landlords, like CODE. Universities generate considerable amounts of income from other areas such as teaching, where landlords operate solely on rental income. We have also seen other private providers state they will not be in a position to offer any rent reductions.
This is something which no one in our industry could have anticipated and as such, quick answers aren't available to all businesses, including CODE. So we thank you in advance for your continued patience. We know it's not an easy time but we hope to know more once the Department of Education have had the position set out from the Treasury.
Thanks to everyone who appeared on our show and got in touch with their questions last night. We're on the @ITVHub if you missed it or need to watch it again. See you in a few weeks! #martinlewis

— The Martin Lewis Money Show (@itvMLshow) April 3, 2020

Martin Lewis, also touched upon the issue in The Martin Lewis Money Show – A Coronavirus Special on ITV, Thursday 2 April, 8pm. View just before 17minutes.
"If you live in any other accommodation, even if it's student accommodation not linked to the university, you are just a private renter I'm afraid. Students don't have special rights.. there is nothing specifically saying you don't have to pay because you're a student."


The National Residential Landlords Association has also said tenants must not presume the coronavirus outbreak is "a green light" to stop paying their rent. They added that landlords have said that granting tenants a complete suspension of rent would put many in an impossible financial position. You can read more about this story on the BBC.
The Government has also been clear in point 1.10 of it's guidance Closure of educational settings: "Advice continues to be that all student accommodation should remain open unless advised otherwise by Public Health England. Many universities provide homes to international students, estranged students and care leavers who might not have anywhere else to go."
How you can help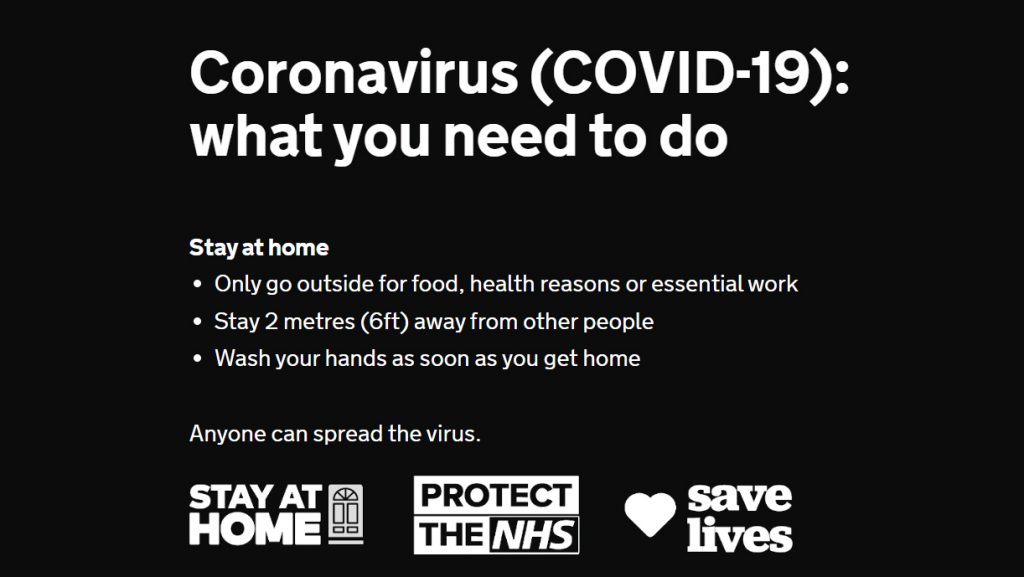 You can 'do your bit' by staying at home.
Universities Minister Michelle Donelan MP has written to students about the implications of COVID-19, asking that students who are still living in student halls or private rented accommodation "should remain there and stay indoors while current restrictions are in force".You can read the entire letter on the Office for Students website Below is an excerpt of her letter:

Dear students,

As Universities Minister, I wanted to write to students in higher education to explain the latest developments in the battle against COVID-19.

I want to reassure you that we are doing all we can to keep you safe and to mitigate the worst effects of the virus on you and your education. The Government is working closely with the HE sector on a wide range of issues, and student wellbeing is at the heart of those discussions.

Students in residence halls in England


While many students will already have travelled home, I know that those of you who have not, or cannot, will be concerned about what you should do now.

The Government's advice is that students remaining at university in England should now stay where they are and not attempt to travel. If you are living in student halls, or private rented accommodation, you should remain there and stay indoors while current restrictions are in force. As the Prime Minister said, staying put and remaining indoors is a crucial step now to slow the rate of transmission of COVID-19, to protect the NHS from being overwhelmed, and save the lives of fellow citizens.  The government published advice on staying at home here: https://www.gov.uk/government/publications/full-guidance-on-staying-at-home-and-away-from-others

Should you or any of your friends fall ill while in your student residence, there is guidance on self-isolating here: https://www.gov.uk/government/publications/coronavirus-covid-19-guidance-on-isolation-for-residential-educational-settings/coronavirus-covid-19-guidance-on-isolation-for-residential-educational-settings

I have been discussing with HE providers the additional support that they can give to students. That includes continuing to provide accommodation for those who cannot travel home or have no alternative residence. Providers will also offer a range of other support services to students, including catering and cleaning, and also student health and welfare. We know that providers are bolstering their existing mental health services, and adapting delivery to means other than face-to-face, and these services are likely to be an important source of support for you during this period of isolation. My department is also talking with HE providers to consider how we can offer additional mental health support...…...

...…..Visa extensions

No individual who is in the UK legally, but whose visa is due to expire, or has already expired, and who cannot leave because of travel restrictions related to COVID-19, will be regarded as an 'over-stayer', or suffer any detriment in the future.

Anyone whose leave expired after the 24 January and who cannot leave the country because of travel restrictions or self-isolation will have their visas extended to 31 May 2020. Individuals must contact the Coronavirus Immigration Team email to advise of their situation – please see contact details further down.

In-country visa switching


Individuals (students or staff) who cannot leave the UK due to travel restrictions or self-isolation and wish to stay in the UK in the long-term would ordinarily need to apply for a visa from their home country. Where individuals would normally be required to return to their country of residence to apply for a visa in a different category, they'll now be able to apply from the UK to switch.

Full details covering the above visa issues above can be found at the following link: www.gov.uk/guidance/coronavirus-covid-19-advice-for-uk-visa-applicants-and-temporary-uk-residents

The Home Office's Coronavirus Immigration Helpline remains open: 0800 678 1767 (open Monday to Friday, 9am to 5pm – calls are free of charge if made from within the UK).  The Home Office asks that customers check gov.uk first as that is the central source of information, but if individuals remain concerned about their immigration status they can contact: CIH@homeoffice.gov.uk.

If you think you have symptoms of coronavirus

The current NHS advice is to self-isolate for 7 days if you have either:

* a high temperature/fever
* a new, continuous cough

If you feel you need to self-isolate, please email health@codestudents.co.uk as soon as possible and we will advise you on how we can support you, including advice on food deliveries and rubbish collection. Please remember no rubbish should ever be left in corridors or stairwells.

We also advise you read the NHS advice about staying at home. Do not go to a GP surgery, pharmacy or hospital. You do not need to contact 111 to tell them you're staying in your room.

If you hear of other residents self-isolating

The Government advice is to self-isolate for a period of 7 days if you show the above symptoms. These symptoms can also be present in cases of the flu or a bad cold – so if someone is self-isolating it does not necessarily mean they have Coronavirus.

Our studio flats, with their own bathroom and kitchen, allow someone to protect themselves and others during the 7 days required for self-isolation. The virus is not airborne, so if someone in self-isolation opens a window, that is safe.

Self-isolation is a precautionary measure so please be understanding and sympathetic if you hear of other tenants who are doing this, as it is likely they are also feeling unwell.

There is no need to panic if someone near you is self-isolating but if you are worried about the situation please speak to the Office.

Mind – the mental health charity – have also issued some advice in relation to the Coronavirus and your well-being.

If you are feeling worried or distressed, Student Minds – Coronavirus Resources offer guidance and support