Cerys has been living at CODE for 3 years and we recently sat down with her to find out why she has stayed so long, we absolutely love hearing the stories of our tenants and here is her's.
Hi my name is Cerys, I moved in to CODE Students in my 1st year at DMU in 2017 and have stayed here for all my studies.
When I was looking for student accommodation, I visited a variety of different locations with my family to see what I preferred. There are loads of different studio apartments in Leicester similar to CODE but what sold me more to live here was the location. I was able to pick a room with a specific view which meant I was going to get more privacy than other accommodations.
I picked a superior river view room because I enjoy the view of nature. Sometimes some ducks will come by in the river and it makes for a more relaxing view when I'm studying or trying to relax. The view changes with the seasons too, there have been times where it snows and I can see through the trees to the park, and then in summer everything looks a lot brighter and green. Even though I am only on the first floor of the building which some people may think that there isn't much privacy, I feel happy leaving my curtains open as generally people don't stand around outside or look in.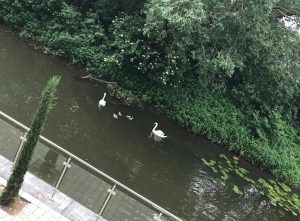 When all my family visit, they have all complimented the design and quality of my room but also have really loved the view outside my room. When my Grandad came to visit for the first time we went for lunch in the cafe then he came to see my room and he sat on the sofa looking out the window. He loved animals and he spent his time telling me the different types of the ducks that lived in the river.
They also loved the different facilities available such as the gym and the café, also the social nights being help have been great at helping me socialize with other tenants and make friends, but also just give me a different activity to do every Friday night! The building is really close to campus and also supermarkets and the city centre is only a short walk away. These extras you get living at CODE make the difference in rent worth paying as you get a completely different experience. The welcome party held near the start of the academic year give me the chance to meet new neighbours too.