Thanks to our students, we've been named the Best Small Provider 2019 at the National Student Housing Awards!
The National Student Housing Awards are unique because they don't take written nominations and there are no 'expert' judges.
All their awards are based 100% on direct feedback from 40,000 students – and our win means we received the highest overall satisfaction ratings of any small provider in the country!
We managed to fight off competition from CityBlock, Kaplan Living and McComb Students to retain the Best Small Provider title, which recognises the best accommodation provider in the country for schemes under 1,500 beds. We won this title in 2018. 
We were also awarded the International Accommodation Quality Mark award, which recognises 90% satisfaction from international students.
Dedicated to making our students happy
Jamie Lewis, CODE's Managing Director said "These awards underline the investment CODE continues to make in its property and the overall student experience.
"We want to provide accommodation that feels like home but also where our students feel happy and healthy, with a team of staff who are there to make the student's time with us even better.
"This is particularly rewarding for us because we added our new Coventry accommodation in 2018/19 and the high quality living we have seen in Leicester has obviously transferred to our new offering too."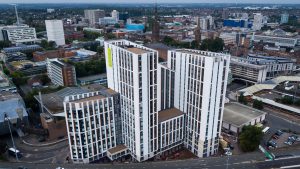 Jamie went on to thank the whole of the CODE Team, whose hard work and dedication to residents, made the wins possible.
CODE prides itself on offering not just quality rooms but an experience that is centred around the student. CODE has a real focus on good physical health, providing things like free gym facilities, as well as a heavy emphasis on creating a community feel to improve mental health. This includes links with university welfare teams and a breadth of social events that cater for all types of students.
The top factors where students believe we stand out is the availability of spacious en-suite studio rooms, the condition and quality of the accommodation plus the safety and security provided.
String of nominations
We were also nominated in the Best Value for Money category but had stiff competition from eventual winner Edge Hill University along with DIGS Student, Host and Lancaster University. 
The wins come on the back of several other high-profile award nominations. The next will be the UK Customer Experience Awards, where we are finalists in two categories ('Best Customers at the Heart of Everything – Initiative' and 'Best Customer Centric Culture') and will be up against national companies including Aviva, Formula 1 and Sky.