At CODE we like to thank our staff for their hard work throughout the year. We also feel a team "Away Day" is a great chance for everyone to socialise and top up their energy levels – ready to help our residents.
Yesterday, our teams in Leicester and Coventry got to do just that as they entered the world of espionage, thanks to a trip to London and the Secret Cinema's Casino Royale night.
The team got to test their spy skills as the world of James Bond was brought to life in dramatic fashion. Iconic locations from the film were recreated, along with memorable characters played by actors.
Lewis Morris, the Assistant Accommodation Manager at CODE Coventry and self-confessed VIP, said: "It was nice that we got taken care of, even on the trip down. On the coach we had champagne, caviar, travel, all paid for – it was amazing!"
After arriving at the Casino Royale, it was all super top secret – with phones locked for the night – so photographic evidence is limited. But in between sipping a few cocktails, the team were tasked with scoping out the casino. Their mission was to find an important "target" who was a key player in an infamous criminal organisation.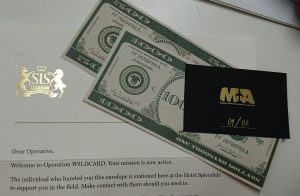 Quite a few of the team managed to get hold of the target's business card – and headed back to MI6 to share their intelligence, before the night culminated in a unique screening of Casino Royale.
Lewis added: "The event itself was fab, I spent most my time with Sanjay (Social Media & IT Manager) which I loved as we don't work together daily. It was super fun, engaging and cleverly thought out. Having this extra special treatment does show that we are appreciated by management."
The trip was just one of the ways that CODE cares for its staff. If you're interested in working for us, visit the CODE profile on Indeed to see all of our current vacancies or to activate email alerts.